Mr. Blue 2.0
Give your talent the tools it deserves
Mr. Blue 2.0 is on the cutting edge of innovation – serving as a genuine ECP partner since its launch. Now featuring a whole range of new functions and even greater flexibility than before, Mr. Blue 2.0 is the perfect solution for:
Working with cutting edge technology
Differentiating your offerings
Optimizing your edging process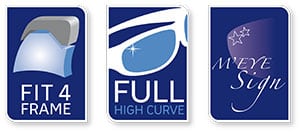 Complete Control of Lens Mounting

Optimal monitoring of all trajectories, irrespective of finishing materials or shapes
Absolute axis control thanks to hybrid edging technology: grinding + milling
Ideally suited for quality finishing even on highest base curves
Fast and accurate drilling with data acquired in a single operation
Automatic centering and blocking for simple operation
Unrivalled Ergonomics
Completely integrated functions without external peripheral devices
Vertical architecture with <Heads-up displays> for optimum comfort
Storage features ensure all accessories are within reach.
Intelligent interface adapts to the way you work.
Highest Quality Guaranteed
Perfect Centering
Binocular 3-D tracing of full-rim frames up to base 9*
Automatic adjustment of centering data based on the frames' 30D parameters*
Aesthetic and Robust Mountings
FIT-4-Frame technology with dedicated small wheel*
Drilling and grooving tools can be tilted up to 30o, making it safe to mount lenses of up to base 10. *Essilor patents and exclusives
Safe Process
Roughing cycle automatically adapts to the curves of lenses up to base 10, avoiding all risk of breakage
Bevel placement and shelf depth optimized for safe mounting without undue stress of lens
Aesthetically Pleasing and Easy-to-Mount Bevels
The bevel heights are adjustable to perfectly adjust to the thinnest grooves
The shelf bevel heights are optimized to follow the frame's shape perfectly
The step bevel is particularly suited for sport eyeglasses with deep, rectangular or uneven groove profile
Specialist functions that help set your store apart from the competition
Blue 2.0 will help you get the most out of your lab's expertise more than any other chain
An elegant design to fit into your sales area
Unrivalled performance so you can fulfill all requests without compromising on quality
New opportunities to customize glasses with M'EYE Sign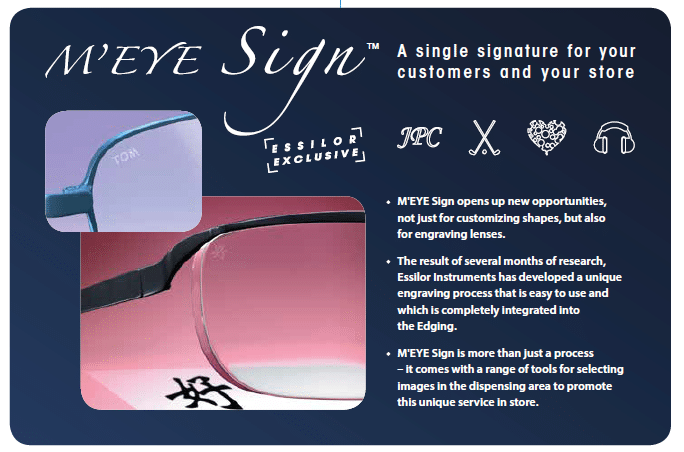 I purchased the Mr Blue edging system for in office finishing and custom spectacle lens design in 2012 after seeing what it was capable of doing in person when I attended a conference in 2012 in San Francisco. What impressed me the most about the design of the edger was its capability of custom shaping and milling functions, lack of significant sound and lack of significant odor during high-index edging. As the anti-reflective coatings and lens treatments have improved over the past 10 years, one of the most difficult aspects of in-office edging was controlling the lens when blocked for edging. Since a high-velocity wheel was typically used to cut and finish a lens to size, typically the errors made in edging were slip-related. The milling function has been wonderful for eliminating this variable. Reshaping frame traces has also improved the aesthetics of the jobs leaving my office/lab. I feel that any issue that has arisen in the past 5 years mechanically has been immediately and professionally addressed. This is what in my opinion separates my experience with Essilor instruments and other large equipment manufacturers/distributers that I have used in the past.