Compact high-volume edger with extended versatility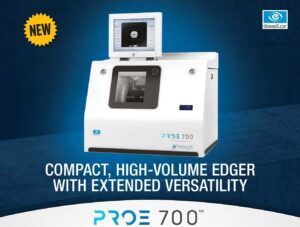 Dallas, TX, Essilor Instruments USA today announced the release of the Pro-ETM 700 edging system. Pro-E 700 combines top-end precision and extended versatility with robustness and speed. Pro-E 700 is designed for high-volume production and can process even the most complex jobs efficiently. Advanced features include engraving, Half Jacket wraps, Chemistrie clips, safety beveling, super chamfering and creative shapes.
"Essilor Instruments has celebrated over 50 years of best-in-class R&D and manufacturing in lens finishing equipment. Eighteen months of field testing and engineering have delivered a highly productive and robust solution using whole new processes in all its cycles. Pro-E 700 builds on the success of Pro-E 600 as we continue to improve our offering to high-volume labs," said Samy Lauriette, Senior Vice President, Essilor Instruments Americas.
Essilor Instruments showcased Pro-E 700 at the recent Vision Expo West to rave reviews from lab managers. Professionals are encouraged to contact their Essilor Instruments sales managers for details on Pro-E 700.
About Essilor Instruments USA
Essilor Instruments is a worldwide leader in the development of modern solutions and technologies for eye care professionals, providing an extensive range of equipment in categories such as finishing, refraction, diagnostics, vision screening, and dispensing measurement devices. The finishing offerings range from the affordable all-in-one Delta2 system to the trusted KAPPA Special Edition and Neksia, premium Mr. Orange and Mr. Blue edging systems, and the Pro-E 600 edger for high-volume labs.