Cash Return from In-Office Finishing
Why you should add in-office finishing to your practice
Like most eye care professionals, you have the goal of increasing profits, providing better service, improving patient satisfaction and growing your business for long-term success. Here are several ways that adding an in-office finishing lab can benefit your optical business:
DIFFERENTIATE YOUR PROFESSIONAL IMAGE
Adding an in-office finishing lab can allow you to:
Improve your professional identity and the patients' perceptions of your practice's technical ability and sophistication
Increase patient satisfaction with quicker turn-around time
Provide exemplary service to patients to improve you competitive advantage
ENHANCE EFFICIENCY
Adding an in-office finishing lab can allow you to:
Determine the quality of products dispensed to your patients
Save staff time, with less job tracking and re-scheduling for glasses not ready when promised
Offer possibly same-day service, receive same-day payment, solve patient eyewear emergencies and produce eyewear more quickly and efficiently
BROADEN PATIENT BASE
Adding an in-office finishing lab can allow you to:
Help retain patients who will be pleased with the speedy timeframe
Gain additional patient base if you can participate in more vision-care plans
BUILD PROFITS
Adding an in-office finishing lab can allow you to:
Add a new source of income for the practice
Reduce lab costs, potentially thousands of dollars a year depending on the number of jobs
Produce premium products such as Chemistrie clips for virtually any frame on your board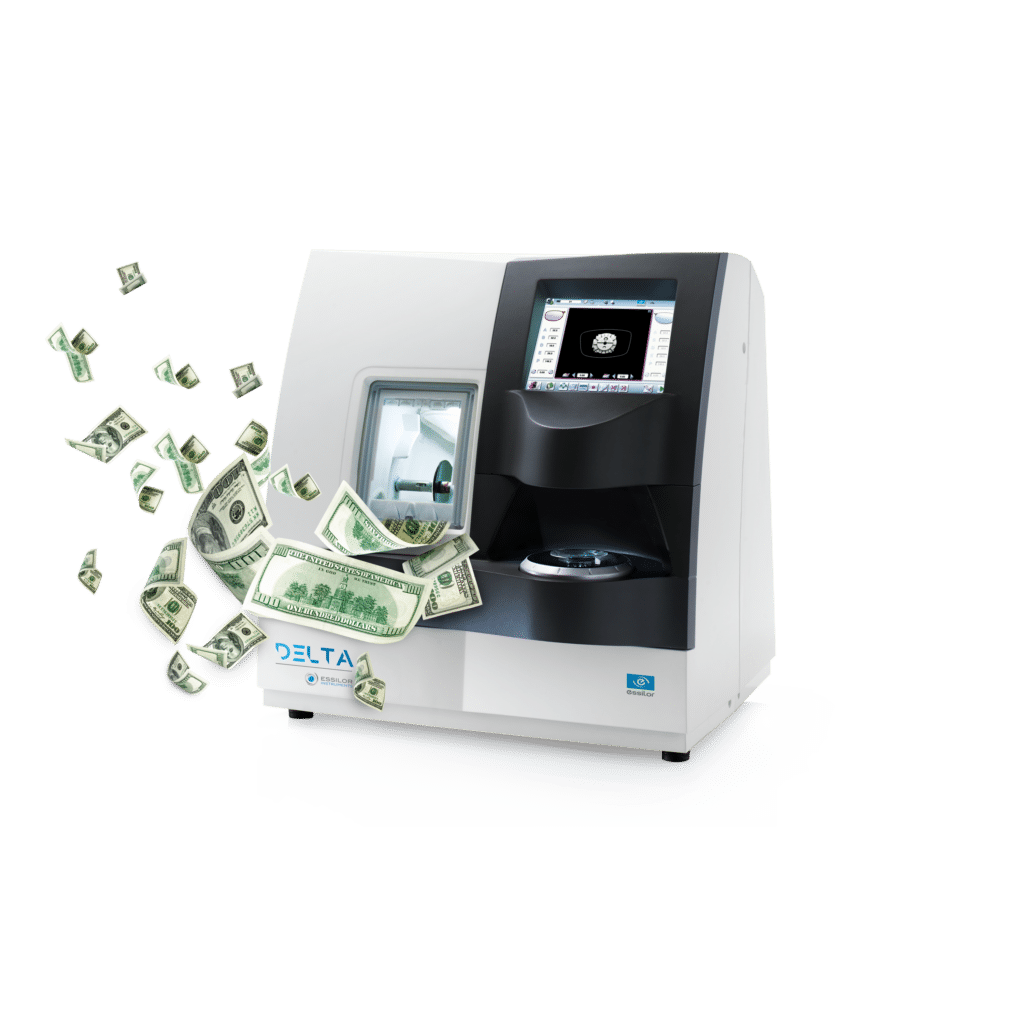 IMPACTFUL COST ANALYSIS
Below is a sample cost analysis to show that you can earn significant savings on your lab bills by having an in-office finishing system.

You may be concerned about the staff training required for an in-office finishing lab. Just note that modern lens finishing equipment makes the process of finishing lenses in-house much easier than just a few years ago. Edging systems takes less time, finish all lens types, and offer built-in accuracy along with ease of use.
Essilor Instruments makes in-house finishing easier and more profitable to help you grow your practice. Our finishing offerings range from the all-in-one Delta series to the trusted mid-range Neksia series, and premium Mr. Orange and Mr. Blue edging systems:
Experience – Celebrating 50+ years of best-in-class R&D and manufacturing of lens finishing systems

Quality

  – ISO 9001-certified, Essilor Instruments performs quality-control procedures at all stages of the manufacturing process

Service

– All services performed by Essilor Instruments certified technicians
Contact us to learn more.