WAM700PLUS Wavefront Aberrometer
Fully-automatic screening solution to streamline your practice
For complete anterior chamber analysis and vision need assessment
The Wave Analyzer Medica 700+ is a very intuitive, rapid and fully-automatic solution combining seven functions to simplify screening of patients' eye wellness and provide detailed measurements for vision solution recommendations.
Based on wavefront and Shack-Hartmann technology
Fast, effective, and space-saving automatic wavefront aberrometer
7 detailed measurements in 90 seconds for both eyes, including wavefront aberrations, pachymetry, non-contact tonometry, topography, ARK and more
Simple to navigate with large touch screen
Note: Submitting a support ticket will take you to a separate website.
OPTIMIZED COMPREHENSIVE EYE WELLNESS SCREENING
Glaucoma screening with improved tonometry using fixation point and IOP value automatically corrected according to corneal thickness
Crystalline lens opacity check for cataract screening
Keratoconus detection with topography analyzing over 100,000 points on cornea
New measurement reliability indicators for secured screening
COMPLETE PATIENTS' VISION SIMULATION 
Automated correlation between pupil diameter and objective refraction in different lighting conditions for precise need assessment
Easy-to-show day/night simulation of patients' vision with/without glasses to highlight the myopic effect at night
Comprehensive summary of high order aberrations coefficients to highlight the glare effect at night
AN ASSET TO STREAMLINE PRACTICE WORKFLOW
Intuitive navigation and exam workflow with 10.1″ touchscreen
Clear and customizable by the practitioner Eye Wellness results reports
Easy XML-based data and images sharing
Cataract: Using Retroillumination, WAM700+ highlights opacity of the crystalline lens.
Glaucoma: Combined with Scheimpflug camera for pachymetry data, WAM700+ provides accurate Intra Ocular Pressure compensated.
Keratoconus: Embedded with a topography module, WAM700+ analyzes the cornea of the patient for keratoconus screening.
Night Lenses: Using simulation of patient's vision during the night, pupil study and aberrations, WAM700+ highlights benefits of night-vision equipment.
Computer Lenses: Near-vision refraction test enables ECPs to highlight benefits of computer glasses to ease accommodative efforts.
Personalized Equipment: Using clinical data of the eye, WAM700+ provides turnkey insights to raise awareness around personalized equipment.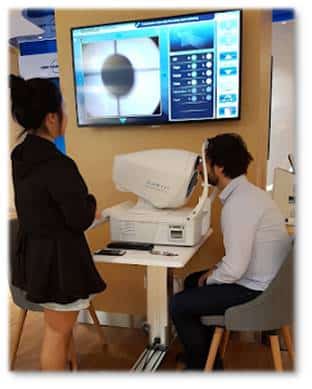 CAN BE OPERATED RESPECTING A 6-FT DISTANCE
An external TV screen with native VGA port
16-ft long VGA cable
Bracket for mounting the screen on a wall or on a floor stand
Bluetooth mouse connected to a USB port of the WAM (otherwise wired mouse)
REMOVABLE PROTECTION
Removable front rest and easy-to-clean patient contact point
LIMITED INTERACTION
Control the instrument head position by using the external screen
No need to get close to the patient to adjust the chin rest height
EVALUATE FROM A DISTANCE
Present results to the patient using the external screen.
Export data directly from the screen to the PMS.