WAM800 Wavefront Aberrometer
Fully-automatic screening solution for a complete eye physiology analysis and visual needs assessment

Wave Analyzer Medica (WAM800) is a very intuitive, rapid and fully-automatic wavefront aberrometer that combines several technologies to enable the eye care professional to provide a comprehensive screening of the eye in less than two minutes.
Glaucoma screening and monitoring
Keratoconus detection
Cataract screening
Myopia control
Patient vision simulation
Eye strain and near-vision assessment
Virtual workstation available
Efficiency in optical environments
Note: Submitting a support ticket will take you to a separate website.
OPTIMIZED COMPREHENSIVE EYE WELLNESS SCREENING
Glaucoma Screening and Monitoring
Improved tonometry using fixation point and IOP value automatically corrected according to the corneal thickness
Anterior chamber analysis with a precise measurement of iridocorneal angles
Keratoconus Detection
Placido rings topography to help analyze over 100,000 points of cornea and provide the Keratoconus probability index
3D simulation of the cornea curvature combined with pupillometry to help get valuable data for contact lens fittings
Cataract Screening
Using infrared retro-illumination, WAM 800 provides a detailed view of the crystal lens opacity helpful in identifying cataracts
COMPLETE VISUAL PERFORMANCE EVALUATION 
Patients' pupillary behavioral patterns and spherical aberrations are responsible for the overall loss of visual quality including poor night vision. Thanks to the wavefront technology, WAM 800 provides acuity simulation to give a better understanding of the patient's vision. The eye care professional can then use the data to show how much vision can be optimized and promote the benefits of night-vision, anti-fatigue, progressive or personalized lenses.
Patient Vision Simulation
Individual autorefractometry and pupillary measurement for mesopic and photopic conditions and near vision
Easy-to-use day/night simulation of the patient's vision using the Point Spread Function
Eye Strain and Near-Vision Assessment
Real-time evaluation of the patient's eye fatigue when focusing on nearby objects
Automatic display of the eye fatigue by distances in centimeters
Efficiency in Optical Environments
Intuitive user interface with quick access to predefined patient protocols
Textual and graphical displays to guide the operator through the screening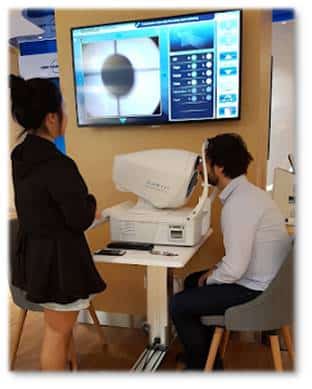 CAN BE OPERATED RESPECTING A 6-FT DISTANCE
An external TV screen with native VGA port
16-ft long VGA cable
Bracket for mounting the screen on a wall or on a floor stand
Bluetooth mouse connected to a USB port of the WAM (otherwise wired mouse)
REMOVABLE PROTECTION
Removable front rest and easy-to-clean patient contact point
LIMITED INTERACTION
Control the instrument head position by using the external screen
No need to get close to the patient to adjust the chin rest height
EVALUATE FROM A DISTANCE
Present results to the patient using the external screen.
Export data directly from the screen to the PMS.
WAM800 Eye Strain Feature