Fully-automatic screening solution to streamline your practice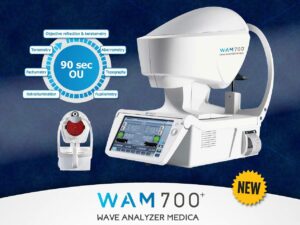 Dallas, TX, Essilor Instruments today announced the launch of the WAM700+ wavefront aberrometer for the complete anterior chamber analysis and visual need assessment. Based on Shack-Hartmann wavefront technology, WAM700+ is a fast, effective, and space-saving fully-automatic wavefront aberrometer. Simple to navigate with a large touch screen, WAM700+ provides seven detailed measurements, in 90 seconds for both eyes. WAM700+ simplifies the screening of patients' eye wellness, for conditions such as cataract, glaucoma, and keratoconus.
"We are excited to introduce the state-of-the-art WAM700+ wavefront aberrometer as a new addition to the Essilor Instruments diagnostics and screening line. Combined with clinical data, WAM700+ enables eye care professionals to grow business by diagnosing conditions early, and better promoting the benefits of specialty lenses and personalized equipment to patients," said Samy Lauriette, Senior Vice President, Essilor Instruments Americas.
Professionals are encouraged to visit the Essilor Instruments booth (LP6065) at 2018 Vision Expo West for an in-depth demonstration of WAM700+.
About Essilor Instruments USA
Essilor Instruments is a worldwide leader in the development of modern solutions and technologies for eye care professionals, providing an extensive range of equipment in categories such as finishing, refraction, diagnostics, vision screening, and dispensing measurement devices.