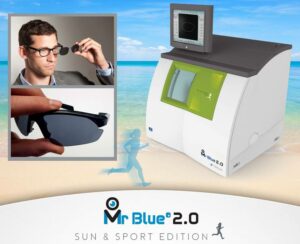 Exclusive New Features for Outdoor Activities
Dallas, TX, Essilor Instruments today announced the launch of Mr. Blue Sun & Sport edger to add to its extensive line of lens finishing systems. Mr. Blue Sun & Sport allows eye care professionals to expand their offerings to produce Chemistrie clips as custom-made sunwear and achieve Half Jacket frame coverage for endurance and extreme sports. The innovative processes are in addition to all the high-end benefits that the current Mr. Blue 2.0 offers.
"Essilor Instruments has celebrated over 50 years of best-in-class R&D and manufacturing in lens finishing equipment. With Mr. Blue Sun & Sport, eye care professionals have the opportunity to generate additional revenues by targeting eyewear needs for outdoor activities," said Samy Lauriette, Senior Vice President, Essilor Instruments Americas.
Professionals are encouraged to visit the Essilor Instruments booth (LP6065) at 2018 Vision Expo West for an in-depth demonstration of Mr. Blue Sun & Sport.
About Essilor Instruments USA
Essilor Instruments is a worldwide leader in the development of modern solutions and technologies for eye care professionals, providing an extensive range of equipment in categories such as finishing, refraction, diagnostics, vision screening, and dispensing measurement devices. The finishing offerings range from the affordable all-in-one Delta2 system to the trusted Neksia, premium Mr. Orange and Mr. Blue edging systems, and the Pro-E 600 edger for high-volume labs.