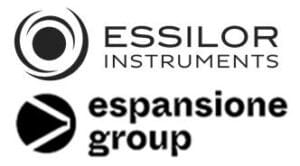 January 18, 2023
Announcing Exclusive Partnership between Essilor Instruments and Espansione
aimed at offering innovative solutions in the USA and Canada
Dallas, TX, Essilor Instruments, a division of EssilorLuxottica and Espansione Group today announced a long-term exclusive partnership for North America. Beginning January 1, 2023, Essilor Instruments is the official distributor for the North American market of Espansione Group's full portfolio of current solutions and future innovations. Espansione Group is an established player in the medtech industry focusing on ophthalmic and dermatological solutions to treat a number of conditions via patented, certified, and light-based technologies such as Light Modulation® Low-level Light Therapy (LM® LLLT), its signature photobiomodulation technology, and Optimal Power Energy® Intense Pulsed Light (OPE® IPL).
The partnership sets the bar high when it comes to expectations for the future. "We believe that Espansione Group's new comprehensive set of technologies represent our best option to deliver great value to our customers. The company's patented, light-based technologies have a strong track record when it comes to recognition and reputation with the scientific community, with dozens of papers published around their efficacy in managing inflammation-related dermatological and ophthalmic conditions, from dry eye disease caused by Meibomian glands dysfunction to acne, and from chalazia to rosacea. We are convinced that this new offering will create great value for the North American optometry and ophthalmology communities," said Jean-Christophe Paris, Senior Vice President, Essilor Instruments Americas.
"We're extremely humbled and proud of this agreement. Years of hard work building our ecosystem of technologies and solutions have paid off and enabled us to be trusted by a partner such as Essilor Instruments," commented Luca Trimigno, Chief Corporate Development Officer at Espansione Group. "As we move into 2023 and continue developing our pipeline of innovation, we are looking forward to what is next. Espansione Group has the ambition of offering to both practitioners and patients the best, non-invasive technologies. We strive to put our clients' satisfaction at the center of everything we do, and this mantra is perfectly aligned with the mission of Essilor Instruments."
Professionals are encouraged to contact Essilor Instruments to obtain details on the portfolio of solutions in light therapy and digital imaging showcased with this partnership, including me-check®, epi-c plus® (USA), eye-light® (CAN), and equinox®.
About Essilor Instruments USA
Essilor Instruments is a worldwide leader in the development of modern solutions and technologies for eye care professionals, providing an extensive range of equipment in categories such as finishing, refraction, diagnostics, vision screening, and dispensing measurement devices. These products may be protected by one or more patents listed at www.essilorusa.com/patents. For more information, see www.essilorinstrumentsusa.com.
About Espansione Group
Espansione Group is an established player in the medtech industry. Since 1981, Espansione Group has delivered the highest standard in the industry. Every day, the company invests heavily in researching and developing the Espansione Ecosystem of technologies and solutions to achieve its ambition: establishing new paradigms in ophthalmology and beyond, driven by its desire to provide its partners and their patients with the best, certified medical technologies. Present in over 50 countries, Espansione Group's aims to continue its strong growth in years to come, relentlessly focusing its efforts on research, development, and customer excellence. For more information, see www.espansionegroup.it.
Contact Us