Thank You Visitors to Vision Expo West Booth!
Essilor Instruments wishes to thank hundreds of eye care professionals who visited our booth at Vision Expo West to receive a demo of the new ultra-compact Vision-S 700 refraction station and enter the drawing for a chance to win a Vision-S 700. Vision-S 700 offers a high degree of accuracy with rapid 3-minute refractions and concentrates a complete refraction experience into an immersive station, while offering patients a totally new sense of involvement.
The drawing was conducted onsite at 4:30 PM on September 25, 2021. Jean-Christophe Paris, the Sr. VP of Essilor Instruments – Americas, drew the winner.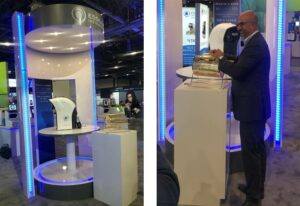 Click to enlarge: