Stereo Optical Adds New Tests to Its All-in-One Digital Vision Screener
OPTEC PLUS now enables even more comprehensive pre-testing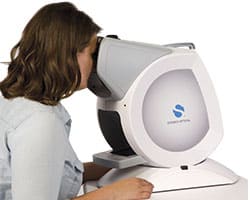 Dallas, TX, Stereo Optical, a division of Essilor Instruments, today announced the release of new tests for OPTEC® PLUS. OPTEC PLUS is a smart vision screener that includes an extensive library of tests administered with a user-friendly interface in a single machine. The glare recovery test and existing tests under the new glare condition have now been added to the software. They are useful for quantifying vision loss under the glare condition caused by cataracts or a corneal scar. These tests may now be integrated into customized protocols to allow for even more comprehensive pre-testing to improve practice flow.
"Since its introduction late 2016, OPTEC PLUS has been very well-received by professionals performing vision screening. This portable digital device lets ECPs better gauge patients' visual performance and enhances the patient experience and practice perception. With even more functionality, we feel that OPTEC PLUS will change the way people think about vision screening to include comprehensive pre-testing for specific patient types," said Damien Rousseau, CEO of Essilor Instruments USA.

OPTEC PLUS Key Features:

Quick, thorough and repeatable results
Testing distances: Near, Far and Intermediate
Monocular and Binocular
Lighting conditions: day, night (optional)
Reverse background
Constant and homogeneous luminescence levels
Lightweight and portable
PC or Tablet
Wireless connectivity
Quick, easy access to digital records
Customizable protocols
Test randomization and automatic mode available
No training or certification required
OPTEC PLUS with Glare and Glare Recovery will make its North American debut at International Vision Expo East. Professionals are encouraged to stop by the Stereo Optical booth (LP4441) for an in-depth demonstration.
About Stereo Optical
For over 60 years, Stereo Optical has been an expert in the manufacturing, selling, and global distribution for vision screening products across many markets and professions, with trusted use and validation. For more information, see www.stereooptical.com.