Optec 5500 and 5500P Vision Screeners
Perform comprehensive visual screening in minimal time.
Screen under a variety of conditions, including monocular, binocular, near, distance, and intermediate.  The Optec® 5500P can also function as a peripheral vision test. Check for adult and pediatric visual acuity, color and depth perception, as well as vertical and lateral phorias.
THE OPTEC® 5500/5500P WITH REMOTE CONTROL INCLUDES:
Accessory Kit*
One standard slide package with 12 test slides
The 5500P includes the peripheral test
*Accessory kit includes: dust cover, pointer, lens cleaner, headrest tissues, recording forms, and instruction manual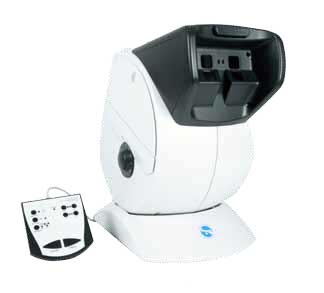 Optec 5500, with remote pad
Request PricingAdd to cart
Optec 5500P, with remote pad and peripheral test
Request PricingAdd to cart