Fully-automatic to streamline your practice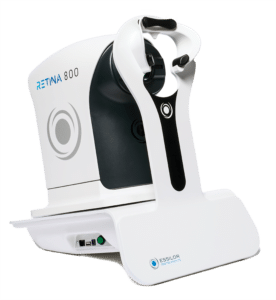 | Dallas, TX, Essilor Instruments today announced the launch of the RETINA800 non-mydriatic fundus camera. The fully-automatic retinal image capture of RETINA800 allows for easy screening and detection of retinal pathologies. RETINA800 is fast to operate, has a space-saving design, and provides excellent image quality at your fingertips. Delegation is made easy with the intuitive and easy-to-use tablet-driven interface.
"We are excited to introduce the state-of-the-art RETINA800 retinal imaging system as a new addition to the Essilor Instruments diagnostics and screening line. The automatic imaging and plug-and-play benefit of RETINA800 can facilitate delegation and mass screening for retinal disorders," said Samy Lauriette, Senior Vice President, Essilor Instruments Americas.
Professionals are encouraged to visit the Essilor Instruments booth (LP6065) at the 2019 Vision Expo West for an in-depth demonstration of RETINA800.
Essilor Instruments USA
Essilor Instruments is a worldwide leader in the development of modern solutions and technologies for eye care professionals, providing an extensive range of equipment in categories such as finishing, refraction, diagnostics, vision screening, and dispensing measurement devices. For more information, see www.essilorinstrumentsusa.com.